I'm trying to get PDFlib (pdflib.com) installed. I'm running into all kinds of trouble and I can't figure out why.
First off, I'm using WAMP and the icon that I double click on to get it running is "Wampserver32." I mention that because in light of the error message I'm getting, I'm thinking perhaps that's significant.
When I start WAMP, I get this error: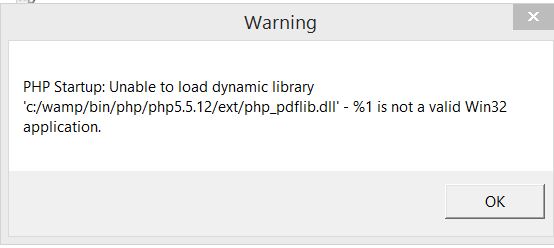 The PDFlib site offers more than one option and I've tried every one that I've found.
I've gone with:
PDFlib-9.0.6-MSWin32-C-C++.zip
PDFlib-9.0.6p3-MSWin64-php
After install the dll into the ext directory and copying and pasting the dll name into the extensions portion of the php.ini, I've been met with defeat every time.
I should mention that the MSWin64 dynamic offers two different dll's; one is in the php-700-nozts_VS14 directory and the other is in the php-700_VS14 directory. The option (MSWin32) has "pdflib.dll" only.
In all three scenarios, I keep coming up with the same kind of error.
I don't think that it should be this hard - that I must be missing something.
Thoughts?