I have 2 csv files: SampleFile.csv and priority.csv, and skills.csv. The first 2 columns in SampleFile.csv are blank and need to be calculated before the results are added in exported into an new csv/xls file. That calculated field needs to return a corresponding SortPriority and SkillPriority value if any part of the word listed in the Title field of SampleFile.csv is in priority.csv (basically a wildcard search on each row in the priority.csv's Keyword column). If there are multiple hits then the numbers need to be added together and returned, if no results returned then value equals 0.
This calculation will have to be done for both the Title Sort Priority and Skill Sort Priority columns
Example 1
Title = Vice President Security
The keywords "Vice President" and "Security" are both hits (would return a positive number with an InString function) in the priority.csv and valued at 2 so the result that should be returned should be 4.
Example 2
Title = IT Ops Manager
There are no matches so the value that will be returned will be 0. If it were listed as "IT Operations" then it would be a hit and the Title Sort Priority would be 1.
So far I have tried using Excel functions, vbScript, and PowerShell to do this but I am either overthinking it or my logic is bad since I can't figure out how to do it. Now I am reaching out for assistance. I though this would be easy with vlookup but its essentially a reverse vlookup or reverse wildcard search.
I would prefer the solution be in PowerShell but I would be fine with a vbScript or Excel macro. Here are 2 screenshots of a subset of each of the file contents. The bottom image is the desired output from the script.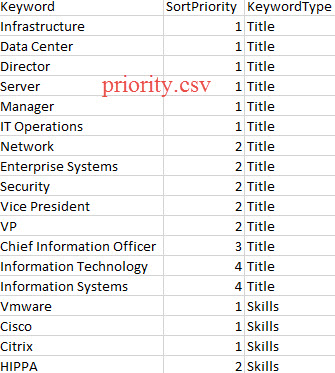 SampleFile.csv
priority.csv