I am currently deploying a plugin (.MSI) to remote machines using PSEXEC to call a script. Each time I deploy  via PSEXEC, I get a bunch of "Process ID" result. It is hard to tell if the deployment was successful or not. Logging is enabled on the script (attached) to where I can see logs for each machine that I deploy to. However, it is not feasible to go into each machine to look at logs. Can someone please help modify the .bat file script to produce a log (.txt) that will tell me if the deployment was successful on the remote machines I deploy to? I'd like a txt file to be produced on the desktop of the server I am executing psexec from (e.g. - Server1). I want the convenient of just looking at the txt file that will show me which machines failed so I can keep track of it.  
PSEXEC commands from Server1: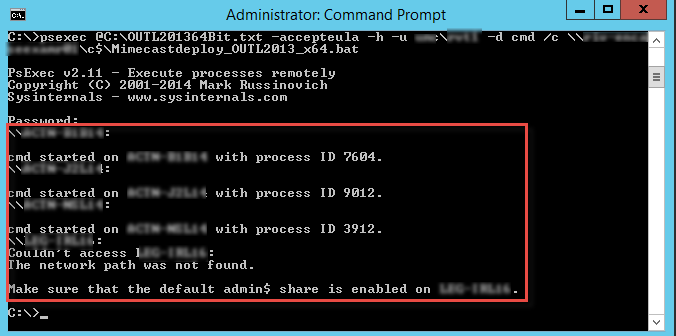 .BAT script is attached, but for the purpose of this thread, i changed it to .txt.
Mimecastdeploy_OUTL2013_x64.txt