I have apache2 running with self-signed SSL and all is functional.
I obtained a certificate, disabled the self-signed-ssl.conf , and created my own server-ssl.conf
I copied the server.crt to /etc/ssl/certs.
I copied the server.key to /etc/ssl/private
I added the content of certificate.ca.crt to the end of /etc/ssl/ca-certificates.c
rt
Added the following to server-ssl.conf:
SSLEngine on




SSLCertificateFile /etc/ssl/certs/server.crt




SSLCertificateKeyFile /etc/ssl/private/server.key




SSLCertificateChainFile /etc/ssl/certs/ca-certificates.crt



enabled my config:
a2ensite server-ssl




apachectl configtest (returns: Syntax OK)




service apache2 restart (returns no errors)



Browse the https site with Chrome fails with: ERR_SSL_PROTOCOL_ERROR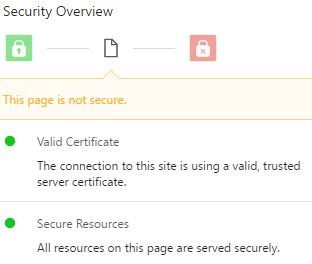 Can someone point me in the next direction to resolve this?