I have an old application that I would like to do a minor mod on.
Currently I have a form with a passenger selection combo box.
It appears as below. I am saving the Passenger ID after selection.
But I don't necessarily have to view that in the combo box – just the initials and surname for selection.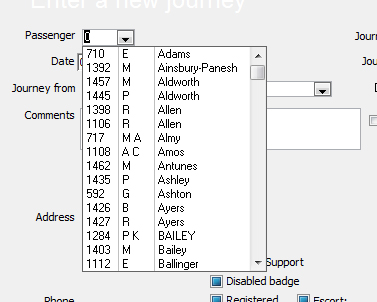 Anyway, the problem is that the list has got rather long and the users would like to be able to start to type in the combo box surname and see options appear for selection.
I cannot quite figure out how to do that. Currently, of course, that will only work for typing in the ID.
The properties of the Combo box include the following….
Name = cboPassengerID
Control source = tblJourneys.Passenger ID
Row source = SELECT tblPassengers.[Passenger ID], tblPassengers.Initials, tblPassengers.Surname, tblPassengers.Inactive FROM tblPassengers WHERE (((tblPassengers.Inactive)
=False)) ORDER BY tblPassengers.Surname;
Any guidance would be most welcome
Regards
Richard