Hi Experts,
I am looking for some assistance on configuring a Windows Server 2012 RADIUS server. We want this to be able to make users have to authenticate to get on our wireless networks... and maybe if we are successful with this, we would also configure this with our HP Procurve ARUBA 2920 switches.
But firstly, I would like to get this working with our Ubiquti wireless network system.
Steps that I have completed so far.
Set up a brand new (virtual) WinSVR 2012 R2 Std box
Configured Active Directory Certificate Services role
Installed Certificate authority
Configured Network Access Protection role
(registered server in Active Directory) by right-clicking NPS (local) and selecting the register option
Set up the radius clients (our access point management server)
Changed the standard configuration as RADIUS server for 802.1X wireless or Wired Connections and set the EAP type to Microsoft: Secured password (EAP-MSCHAP v2)
Linked a security group configured in AD for authentication.
Specified the RADIUS server details on our AP interface for a wireless network.
When a computer attempts to connect to the wireless network, I do get the login box, I then log in with a user which is included in the security group configured, but this just fails to connect.
I've noticed on a lot of videos on YouTube, that there are some certificate configuring required
if I open Certificate snap-in via MMC on the RADIUS server, and select computer account, then browse down to Personal > Certificates, then right click and select 'Request New Certificate' I am only given the option to select 'Computer' on the request wizard, but apparently I should be able to see 'Domain Controller'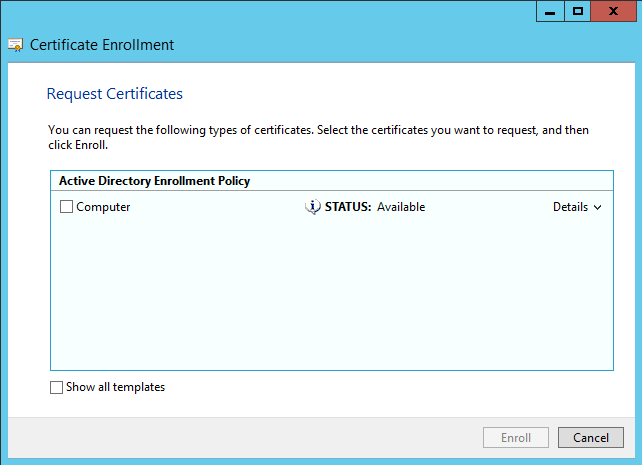 Please can someone advise what I may have missed off?
Thanks
Nathan