I'm using sql server 2008.
I read this article:
http://stackoverflow.com/questions/2626158/why-use-multiple-columns-as-primary-keys-composite-primary-key
I have this create table script
CREATE TABLE Persons




(




    P_Id int NOT NULL,




    LastName varchar(255) NOT NULL,




    FirstName varchar(255),




    Address varchar(255),




    City varchar(255),




    CONSTRAINT pk_PersonID PRIMARY KEY (P_Id,LastName)




)



When I run this script that creates a table with two primary key columns that looks like this: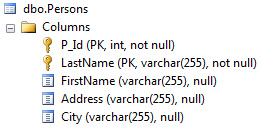 I read that on a sql server table on some other article, that you can only have one primary key, but you can have multiple columns in your primary key.
If I want to have the City column also be a primary key column.
Any know the syntax for the Alter Table command so that after I create the table with the script above I can then use the Alter Table command to then add the City column as one of the primary key columns?