Last year I purchased a license for Windows 8.1, which was delivered electronically. At one point I had windows 8.1 and Windows 10 running as virtual machines on my Windows 7 system. Since then I have wiped the Windows 7 partition, and replaced it with a clean install of Windows 10. I've lost Windows 7 forever, but I wouldn't mind installing 8.1 as a virtual machine running in Windows 10. I
do
have installation media for Windows 8.1, although I can't recall where I got it. The DVD didn't come from Microsoft, but it's one I burned myself. I can no longer locate the ISO image from which that disk was created. Regardless, I've never succeeded in creating a virtual machine using that media.
The email confirmation I received from Microsoft for my purchase of Windows 8.1 contains a download button. When I retrieve the download, I get a setup file named "OSGS14-WindowsSetupBox-32
bitand64bi
t-English-
4141408." On the chance that it might allow me to burn a new disk or create an ISO file, I've tried running it. However, all I get is the following message: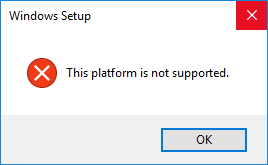 Is there any way I can use this setup file with Hypervisor or VMware to create a virtual machine under my Windows 10 system?