Headline:
Win Svr Std 2012:
https://server/certsrv
to submit a certificate request, the Advanced Certificate Request screen does not show the usual list of certificate types. It is empty with error message for domain admin user, or contains just one entry (Code Sign) if Administrator user.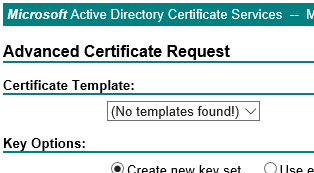 Background:
Migrating from SBS 2008 to Std 2012. Domain and Forest level are both at 2008. Migrated CA using MS Technet article:
https://technet.microsoft.com/en-us/library/ee126140%28v=ws.10%29.aspx?f=255&MSPPError=-2147217396
Post-migration, CA appears OK (right certs, history, functioning.) Trying to use certsrv to create certs via web browser. If I authenticate as Administrator, I see only one template, "Code Signing". If I login as user member of domain admin, I see none and get error "you do not have permission to request a certificate from this CA".
I've tried duplicating the Web Server template as "Web Server temp", still doesn't show up. I've opened privileges up wide on that template, doesn't show up. I've tried the suggestion about making the Subject "build this from AD", doesn't help. I've reduced the maximum validity to one year, no help. I've tried putting certsrv under a NetworkService rather than a ApplicationPoolIdentity, doesn't help. I've read a hundred articles, most with no clear resolution.
I am connecting to CertSrv using https (it is marked as requires https) and with a proper cert installed and bound to port 443. The SSL connection / authentication seems to work properly. Note that using different login identity has different results, so the identity seems to be propagated properly.
Not sure where to turn next.
Is this environment (running 2008 domain/forest level with 2012 server) something that should not work? In other words, in a couple of weeks, when migration is done, and if I raise the forest/domain level to 2012, would this all magically start to work? Or, am I just deeper in the weeds because there's no hope to back out and start over?
The symptom I keep coming back to, which I cannot explain, is that the CodeSigning template shows us when logged in with the Administrator account but not when logged in with another domain admin member. Nothing else shows up either way. It smells of a permission problem but CodeSigning just has domain+enterprise admin with r/w/enroll. Nothing specific to the Administrator other than it may have other group memberships / just is special.
The one other note on CodeSigning is from migration. The MS KB article on CA migration (link above) describes using certutil -setcatemplates to assign the migrated templates to the destination CA. The output from that command indicated that only CodeSigning wasn't "Already present":
c:\Temp\BackupCA>certutil -setcatemplates +CodeSigning,EFSRecovery,E
FS,DomainC
on
troller,WebServer,Machine,
User,SubCA
,Administr
ator
CodeSigning: Adding
EFSRecovery: Already present
EFS: Already present
DomainController: Already present
WebServer: Already present
Machine: Already present
User: Already present
SubCA: Already present
Administrator: Already present
CertUtil: -SetCATemplates command completed successfully.
Finally, the correct sets of templates were displayed under SBS 2008 certsrv. Same setup/configuration post-migration, behaves very differently, as described above.
Help ...