I have a website that I put together some time ago for my nonprofit Kiwanis club. I purchased a template named "MORE+" from a site named mojo, and I also purchased a calendar plugin named EventOn.
Starting with a wordpress update a while back, the calendar starting looking strange on the main calendar page. However, it continues to looks fine when it is used in the the sidebar. I have troubleshooted the issue as recommended by the plug-in creator, changing my wordpress theme to the standard, default WP theme. When I do this, the calendar plugin works perfectly. So I believe that I need to fix the code in the MORE+ theme. Unfortunately, it looks like that whoever wrote that theme is no longer around.
So... here am I am experts-exhange wondering why I didn't come here in the first place ? Everyone here is expert!
So... if you go to our calendar page -
http://www.lafayettekiwanis.org/club-calendar/
- you can see that under every event, there are two empty lines which should not be there. And in the sidebar, there are not any extra lines. All the pieces seem to work properly - when you click on an event, it expands and gives the correct details about the event, etc.
Here is a picture of what I am trying to explain: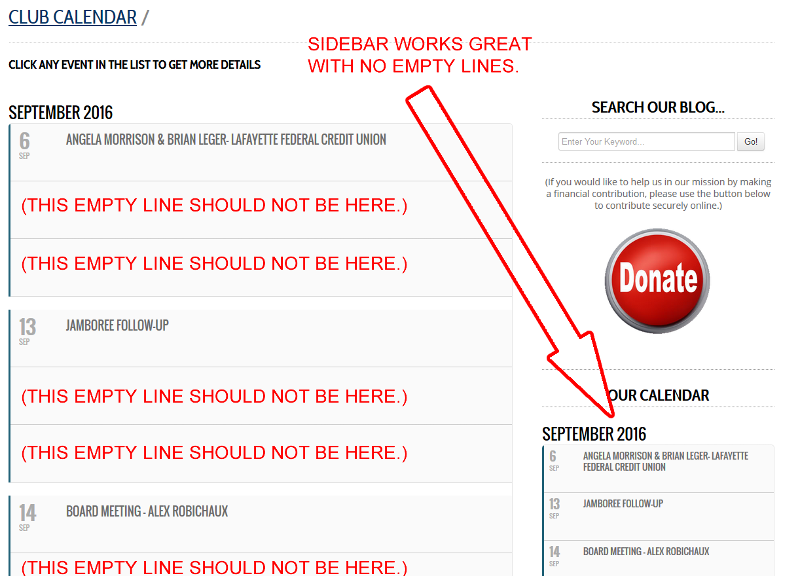 I think that there must be some code in one of the files that came with the template that caused this to start happening at some point with a WordPress update.
Thanks for any pointers anyone can give to get rid of these blank lines.
Kevin