I have a great working workbook.
I need to add another function to it.
When I add a name to the Master Log sheet at the bottom, right now it automatically adds that same name to the ExpDate sheet at the bottom (5 times), this works great. I want the next two groups of cells to copy down from the group above.

Right now the drop down in Update sheet looks at data from MAster Log and displays the the Name and entire row data into tables in the Update sheet. This works great. This is also how we update the info and send back to Master log by hitting the Update Data button.
The drop down only shows the current names in master log, I would like an input box to ADD a new name to the master log from the Update sheet as well. Any changes to the tables currently are sent to master log when hitting the update data button. So a new name should be sent as well with any additions for that name in the tables..... Somehow we need to clear the drop down name so the program doesn't get confused which data to send on button click.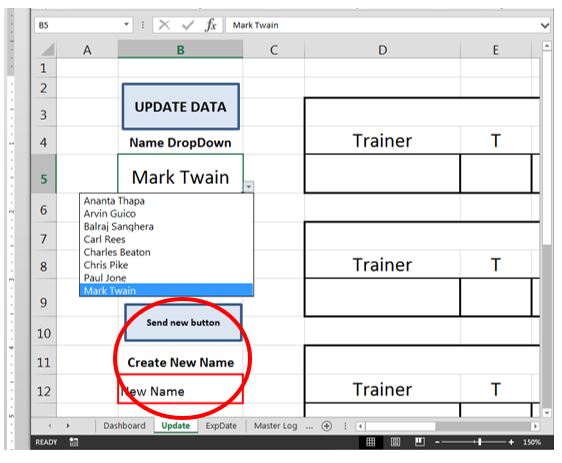 Let me know if this can be done on one question or if we need to split it up.
Thanks so much
Chris
Stripped-expiry-email-Sep12.xlsm