I am trying to produce a table that will give me my moving 12 month total.
sales start from 01/01/2013 and end in 01/08/2016 - there are no sales in my model before or after these dates.
I want my table only to display a value where it is possible to have a full 12 months worth of aggregated data. I therefore want to exclude the data highlighted in red below from the table.
Can anyone amend the measure below to do this?
Note: Ideally I want the table to update automatically so that the range of dates included automatically extends as time goes on. For example, at the end of september 2016 another 12 month total will be included.
CALCULATE([total sales],DATESINPERIOD(Basic
CalendarEn
glish[Date
Key],LASTD
ATE(BasicC
alendarEng
lish[DateK
ey]),-12,M
ONTH))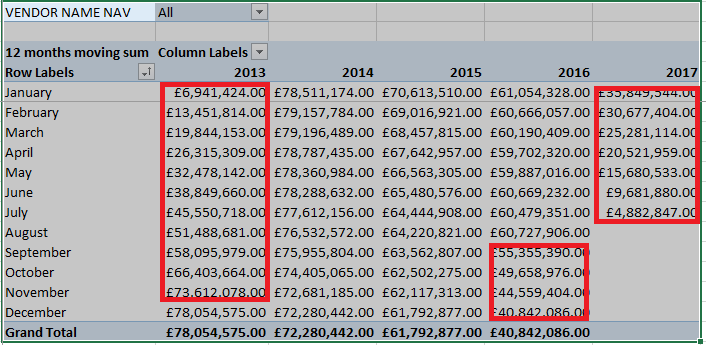 Thanks
Mike