Looking for some help on a mail merge process. I would like to group all students into one page however when I run the mail merge all the students have their own page instead of being grouped by school.
I have the report grouped by school then by group by child on exam description then group by child on the exam date.
When I go to mail merge in word it will list out the students as individuals. Where do I add the group by school so all students who fit that exam description & exam date are under the school. Where is this option at? Is this a word mail merge, SSRS report builder, or done in the sql query itself?
select CONVERT(varchar,ME.members_exams_examdate, 101) as exam_date,




		mem.members_firstname, mem.members_lastname, 




		me.members_exams_id, me.members_exams_score,  me.members_exams_examdate,




		ex.exams_description, 




		sc.schools_name, sc.schools_city, sc.schools_state	




from members_exams as me




join exams as ex




on me.exams_id = ex.exams_id




join schools as sc




on me.schools_id = sc.schools_id




join members as mem




on me.members_id = mem.members_id



This is what the report look like: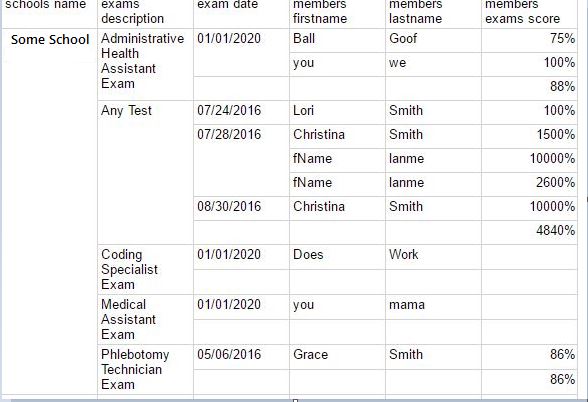 This is what I am able to get from the mail merge:

This is what I am looking for :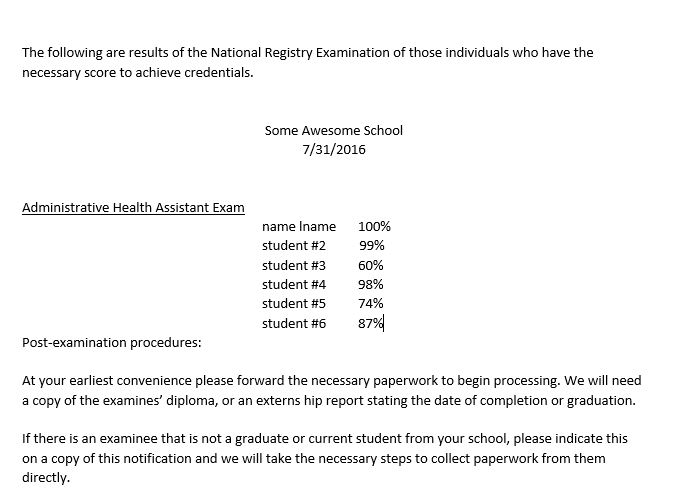 Thanks for your help,