Hi all,
I've got a simple sheet here: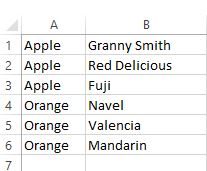 On a different sheet, I need this to happen:
In cell A1, If I choose either "Apple" or "Orange", I need a data validation type drop-down in cell B1 that only shows the type of that fruit.
So for example, if i choose "Apple" in cell A1, I can only choose in cell B1: "Granny Smith", "Red Delicious", or "Fuji".
Thanks in advance.