Hello, Experts!


Word 2016/ Win10:
Normally, when I am viewing two documents side-by-side, I see the following choices on my ribbon. (in this screenshot. (In this screenshot, the choices are grayed out, but normally they are not.)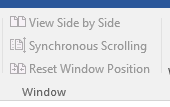 Starting yesterday, these three choices are missing. I have already closed - and opened Word - one or two times, but to no avail.
Is there some setting that enables/disables these choices? I can provide further screenshots if you tell me what you need to effectively troubleshoot this issue.
Thanks,
Steve