I've been using Acronis True Image for a number of years. During that time it's been both a blessing and curse. On several occasions I've used it to restore a broken system, or move my system to a new drive. On the other hand, it has been high maintenance – requiring lots of tweaking to keep the backups running as configured.
The other day I got up to discover that my backup (which is scheduled to run during the night) had failed. Instead, True Image had sent several email notifications indicating that the backup was waiting on "user interaction." Since the backup is scheduled to run at night while I'm asleep, I hadn't seen the prompts. So, I ran the backup manually to see whether I could reproduce the error. The following is what I got: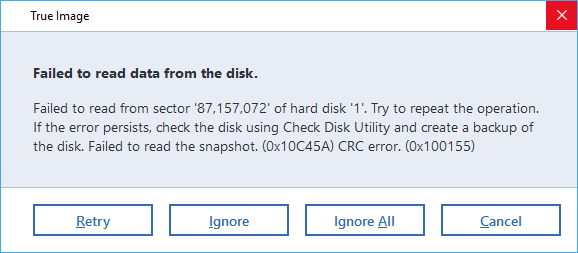 I'm not sure where to start. First of all, I'm not sure to which drive the message is referring – the source drive, or the external target device. For example, the Disk Management utility under Windows 10 refers to my C: drive as "Disk 0," and the external drive as "Disk 1." If I knew the location of the "snapshot" to which the message refers, that would help. Unfortunately, I don't.
When I requested that Windows 10 scan the disk containing my Windows partition, I was informed that it didn't need one. I'm assuming that means that Windows 10 has been checking the disk periodically, but had yet to find any errors. Regardless, I elected to go with a scan. I was informed that it would run the next time the system was restarted, so I restarted the system.
The system took longer than usual to restart, so I assumed it was running the scan. However, since the laptop was still in the docking station and the lid was closed, I couldn't follow the progress. Eventually I was presented with a login prompt. After successfully logging in, I found no notifications waiting for me. I assumed that the scan completed without errors. If the scan generated a log, I don't know where to find it. In the meantime, subsequent attempts to run the backup have continued to fail with the same error.
I tried cloning the backup and rerunning it, but I'm getting the same error. I could use tools at my disposal to scan both drives, but since that could take a long time, I'd rather avoid scanning a drive that is not defective. How can I tell which drive True Image is complaining about?