I have been using two monitors and a projector on my computer for some time (over a year) and for some reason after a Windows update and restart the integrated graphics card is now not being detected.
The integrated graphics card (Intel) works if I take out the discrete card (NVidia GT620). As soon as I put the NVidia card back in then the integrated graphics card is not detected.
If I go to the device manager then the Integrated card does not show however if I select the 'show hidden devices' then the intel device is shown (faint) but the properties tell me that it is not connected.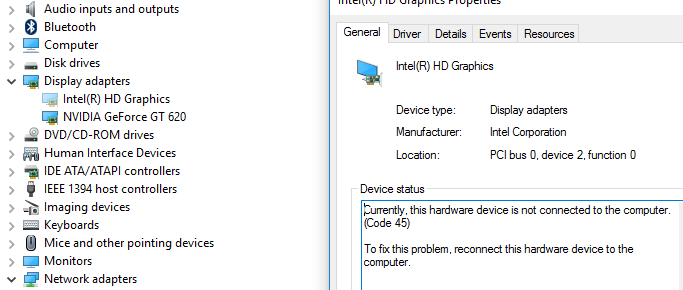 I have two monitors connected to the NVidia (VGA and DVI-D) and one projector connected to the Integrated VGA.
Things that I have tried:
1. Uninstalled Windows Update
2. Reactivated iGPU ENABLED in BIOS and set iGPU as Primary source
3. Uninstalled and reinstalled drivers for integrated and NVidia
4. installed Lucid logix
5. Downloaded latest drivers for discrete and integrated
6. Repaired Windows
7. reinstalled Asus GPU Tweak and VGA drivers from Asus installation CD
8. reinstalled chipset and intel graphics drivers
System Specs:
Windows 10 Home 64-bit
Intel Core i5-3470 @ 3.2GHz
8gb RAM
ASUS Motherboard P8Z77-VLX
NVIDIA GT620
Help!