Hello Experts,
So I have search forever on the net for a simply solution to create a time picker on an Access form.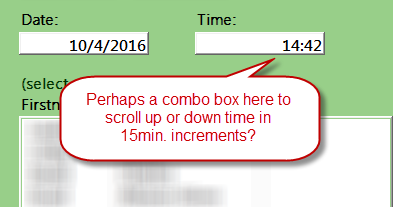 I just need to have a control that allows the user to enter a time in 15min. increments and formats it to a short time so that I can write it to the table using VBA. The time control is unbound.
I have looked at more involved routines like Crystal's f_PopupCalendar but I all I need is a simple combobox control I think that will work. I just don't know how to translate the values into something I can write to the table.
Any help would be most a appreciated.