We have a computer which was Windows 10 pro that it's hard disk failed (we are still working recovering its data). In order to make use of this device, we purchased an exact hard drive and proceeded to install its original Windows OS; which is Windows 8 Media center. We then installed Windows 8 Pro on the computer (an upgrade key purchased at the time) and subsequently, installed the Windows 8.1 Pro upgrade.
At this point we have revitalize the computer to have the exact OS prior installing Windows 10 a bit over year ago:
OS Name: Microsoft Windows 8.1 Pro with Media Center
OS Version: 6.3.9600 N/A Build 9600
OS Manufacturer: Microsoft Corporation
OS Configuration: Standalone Workstation
OS Build Type: Multiprocessor Free
Registered Organization: Toshiba
System Manufacturer: TOSHIBA
System Model: Satellite S855
System Type: x64-based PC
Please advice on the correct and optimal steps to upgrade our Windows 8.1 Pro with Media Center to Windows 10 Pro.
Note:
We are not sure, but have been told that w10 will not install to a w8 Media Center, but we are sure.
Also we have downloaded ans ran the
Windows 10 Media Creation Tool
.
In the Tool, we chose upgrade" when prompt and was displayed with the following message: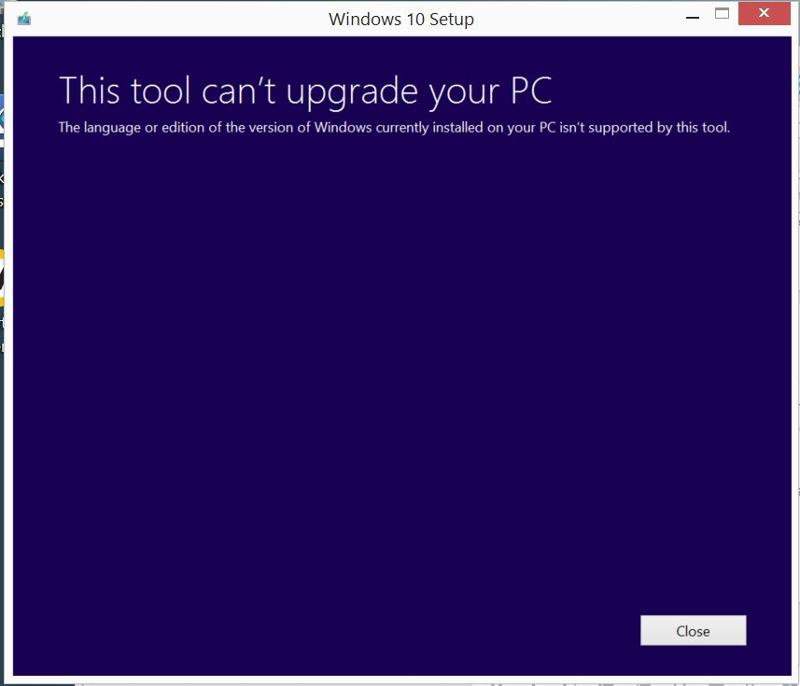 We proceeded to install from a boot Windows 10 ISO USB, and got this message:

Hope we have provided enough info for EE to assist in this problem.
Thank you in advance.