I need help writing an if statement that is dependent on the conditions from two cell refs - see below.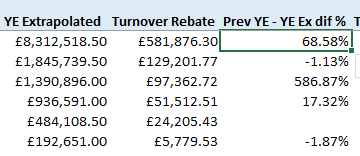 IF Pre YE <=0 then return 0
OR
IF Pre YE >0<5 then return 1
OR
IF Pre YE >=5<10 then return 2
OR
IF Pre YE >=10 then return 3
However, if the YE extrapolated value for the row is >1,250,000 then apply the the first three if statements but not the forth. Effectively this means the return for any YE extrapolated values greater than 1,250,000 will be capped at "2"
The formula would return the following results for the rows above
row 1 - 2
row 2 - 0
row 3 - 2
row 4 - 3
row 5 - 0
row 6 - 0
Thanks
Mike