I have a home network and I'm planning to install IP cameras and a Synology Surveillance station. I created a VLAN to isolate the traffic from the IP cameras from the rest of my network. The SG-300 is configured for L3. Here's my setup: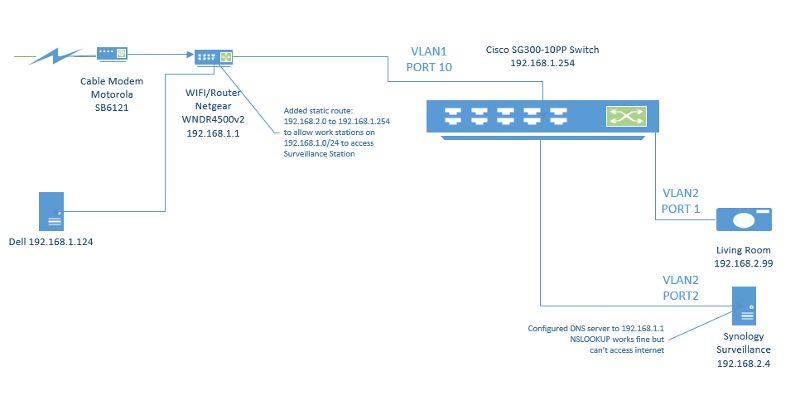 The Static routing table in the SG-300 shows:
0.0.0.0 0 Default 192.168.1.1 Default 2 1 VLAN1
192.168.1.0 24 Local Directly Connected VLAN1
192.168.2.0 24 Local Directly Connected VLAN2
On the SG300, port 10 is configured for VLAN1, untagged, trunk. Port 1 and 2 are configured for VLAN2, untagged, access.
The traffic on VLAN2 appears to be isolated from VLAN1 and I can SSH into the Synology Surveillance box. I can ping the Synology box from the 192.168.1.0/24 subnet, however, if I SSH into the Synology box, I can't ping out to the internet.
Any help would be appreciated.
Thanks,
Alan