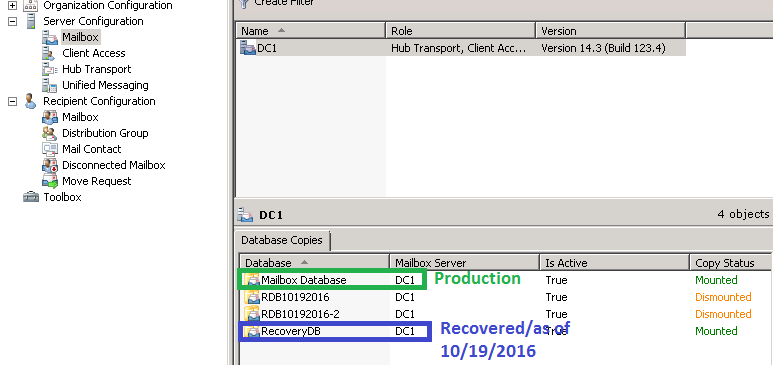 I have SBS2011/Exchange 2010 and needed to restore a user mailbox. The user deleted a lot of files and the user does not remember which folders he deleted emails from.
So I have decided to restore his mailbox from Windows Server Backup. I succeeded in creating Recovery Database called "RecoveryDB" and mounted it in Exchange Server.
When I run Get-MailboxStatistics -Database RecoveryDB, it shows similar amount of emails for that user mailbox.
My question is how can I export all the emails from restored user mailbox into PST file?
If I can create PST file, then I can import that into his Outlook.
I am aware that I need to use New-MailboxRestoreRequest comand, but not sure what the exact syntax should be. Can you help me with that? Let's use the name "John Doe" with login name "jdoe".
Again, I like to know how I can extract all emails from recovered "John Doe" mailbox and create a PST so that I can open his current Outlook and import everything from PST file.