Hi Experts,
I've added the bindings to the IIS default site (for the port number 9680-HTTP & 9643-HTTPS). Whenever I go to click on the start button it could not start and run into an error mentioned in the title above.
Screenshots are as follows :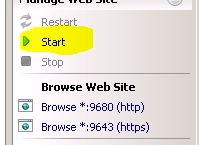 How to resolve the error?
Regards,
D Patel