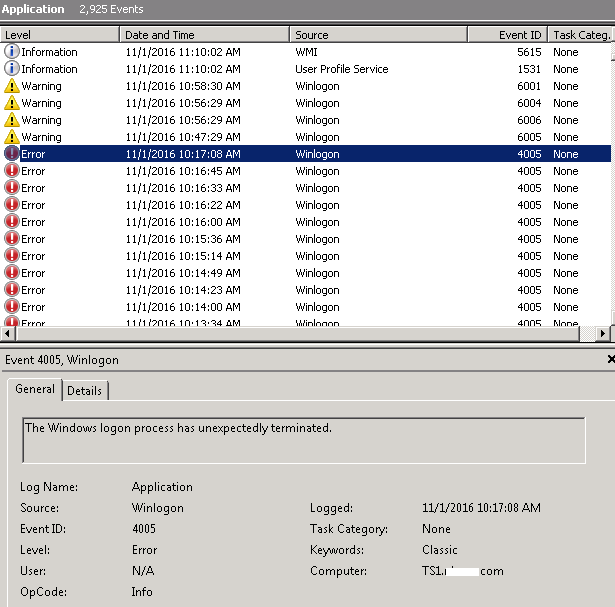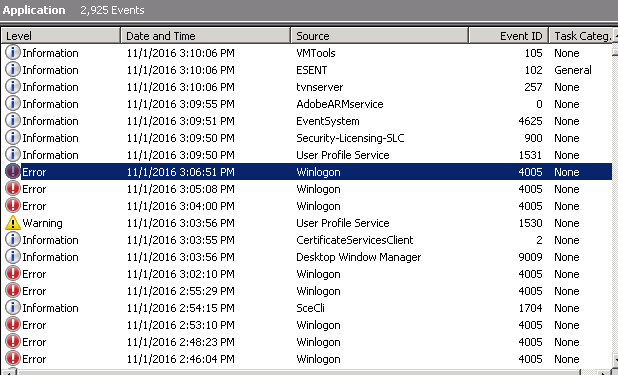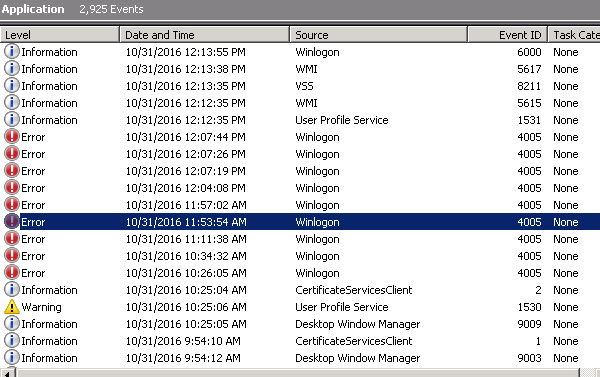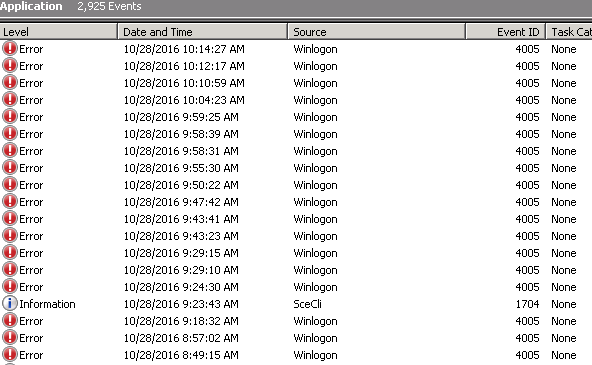 Hi,
I have a Windows 2008 based Terminal Server. It is a virtual machine in VMWare ESXi 5.1 server. It has been locking up several times since last Friday and it is getting more frequent.
It locked up once last Friday. It was frozen again on Saturday when I tried to login. Again on Monday. Twice today(Tuesday) - one in the morning and another one in the afternoon.
When I checked Event Viewer, as seen on screenshots I see this "Winlogon Event ID 4005 error" pretty much every time when the user reported the problem.
What I have to do to is turning off the VM in vSphere client and turn it back on. Since I can't log into the OS thru VM console, I can't perform regular shutdown. I tried to execute Shutdown from vSphere client menu multiple times, but to no avail.
I checked to see if this VM is running on Snapshot, but it is not the case. I checked the datastore and it has 213GB free space out of 541GB total space. As far as RAM goes, there is total 16GB RAM for the VMWare box and FS1 (4GB), TS (4GB), XP1 (1GB), XP2 (2GB) , XP3 (3GB)/turned off. RAM configuration and VM count has been the same for months and no issue in the past.
I checked the hard drives on the VMWare box and no problem there. Other VMs (FS1, XP1) are running just fine.
What is consistent is that
(1) It refuses user login when the problem occurs.
(2) When I try to log in as administrator thru vSphere VM console, I can't.
(3) I have to turn the VM off and turn it back on.
(4) Lockup/freeze occurred daily since Friday, but today it locked up twice. Therefore it is getting worse.
What can I do?