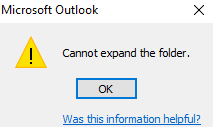 Hi,
I have SBS2011/Outlook 2010 and there are two users/mailboxes - UserA and UserB for example.
UserA wanted to see all the emails of UserB. So I did the following:
(1) I added UserB into Manage Full Access Permission of UserA in Exchange Management Console/Recipient Configuration/Mailbox section.
(2) Opened UserA Outlook 2010 and Account settings/UserA/More Settings button/Advanced Tab/added UserB.
When I opened UserA Outlook, I saw UserB at the bottom, but when I tried to open UserB folder, it gave me the error (see screenshot with error message)
(3) I selected UserB in UserA Outlook, clicked Folder tab, clicked Folder Permissions and added UserA as "Owner" in Permission level, but I still get the same error.
What else can I try?