I have a query which delivers the data but i dont know how to make the query so that where the cc has slight variants i.e 2401 vs 2400 that I only get 1 value returned. my variance is 5.
I know how to calculate if the variance is in range ie abs x-y >=5
I dont know how to get the grouping correct with this data I would like it to show (here i manually filtered 1 of the 2 out)
this way I get the cc's for the xc90 vor vehicle.
ClientName CC StrLink
Abi 2400 XC90 VOR****** or it could show the 2401 and not the 2400
Abi 2521 XC90 VOR
Abi 2922 XC90 VOR
Abi 3192 XC90 VOR
Abi 4414 XC90 VOR
Cap XC90 VOR
Glass 2400 XC90 VOR
Glass 2521 XC90 VOR
Glass 2922 XC90 VOR
Glass 3192 XC90 VOR
Smmt 2521 XC90 VOR
Smmt 2922 XC90 VOR
Smmt 3192 XC90 VOR
Tvi 0 XC90 VOR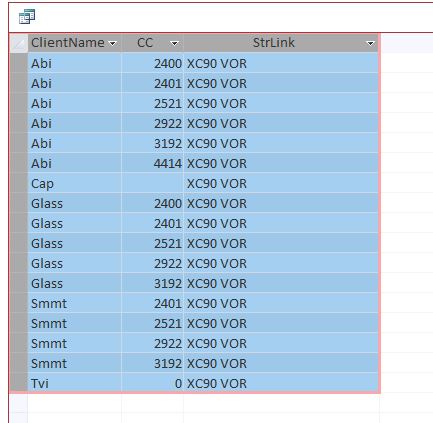 SELECT QryXC90.ClientName, QryXC90.CC, QryXC90.StrLink




FROM QryXC90




GROUP BY QryXC90.ClientName, QryXC90.CC, QryXC90.StrLink




HAVING (((QryXC90.StrLink)="XC90 VOR"));