I want to run Myscript.bat 24h/24h only in my acc. as long as the RDP server power is UP!! even if the rdp is restarted ,logged off etc
this is the tool i try to use:
https://nssm.cc/
- Look 1'st snapshot
so if i check Local System account and also Allow service interact with Desktop,then if someone restarts our public RDP ''Myscript.bat'' also restarts and running in ''ALL local users''.so if we are 5 administrators that means ''script.bat'' it is opening for ALL 5 and i don't want that,I want to run only in my account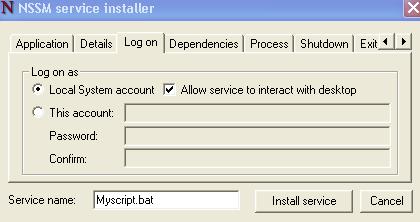 - Look 2'st snapshot and also the 2'nd option:
Ok so if i want to run''only my account'' i check:
This account



,i do that and everything works fine with 1 exception, NO DEKSTOP INTERRACTION (that means Myscript.bat runs in backround only,i can't see it running in Command Prompt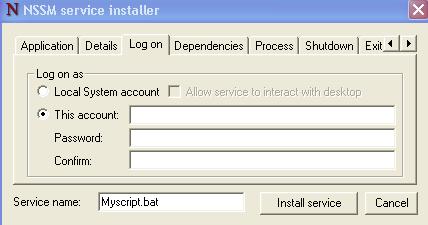 I do not know how to run ''This account'' and also Interract with Desktop???
anyone knowshow to proceed?does anyone have a solution?
thank you