I am using the Barracuda ESS service for anti-spam, and I have it set up with LDAP lookup for the user accounts. Currently, when I synchronize the users from my AD to the Barracuda, It creates user accounts for all the mailboxes, distribution groups, etc. that I don't want. So this forces me to leave synchronize automatically turned off.
Looking at the settings in Barracuda, I can set custom user filtering. (See screen shot below.) However, I can't figure out the correct syntax to put in this filter. At this point, I don't care if the filter bases it on users in a specified OU or users who are members of a specific security group. I can't get anything to work.
I'm hoping this is a simple request, and I just don't know LDAP well enough to figure it out. So any help is appreciated. Here's the Barracuda settings screenshot: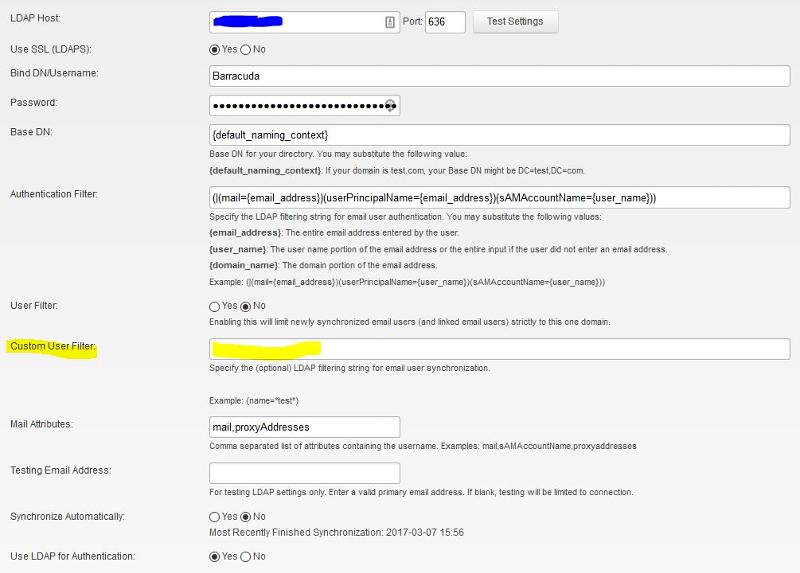 Here's the text from the Barracuda help screen for that field:
User Filter
Filter used to limit the accounts that the Barracuda Email Security Service creates when an LDAP query is made.

    Example 1: Your list of valid users on your directory server includes 'User1', 'User2', 'User3', 'BJones', 'RWong', and 'JDoe', and you create the User Filter (name=*User*). In this case, the service only creates accounts for 'User1', 'User2', and 'User3'.
    Example 2: You create the User Filter (mail=*@domain.com) which only pulls users matching the domain "domain.com". Any attribute that is available for reading on your LDAP server can be used in the user filter.