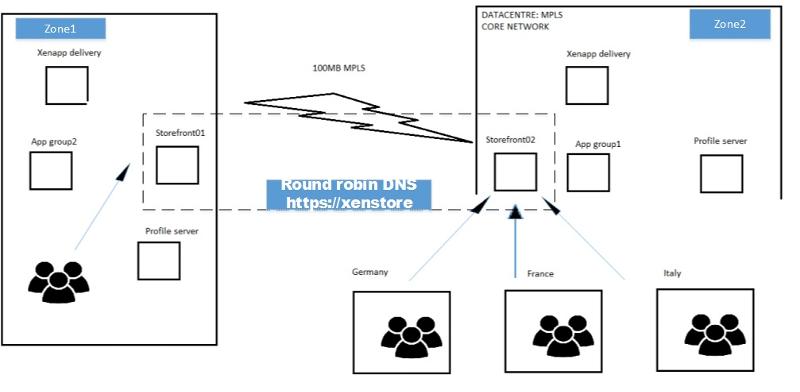 Need some assistance with designing the best soultion for the storefront servers that will offer both the most efficent conenction for users and resilience. I have a diagram that show the network layout where users and app servers will be situation.
Zone1: Has local storefront server. Users access application hosted locally on site and also application deployed in Zone app servers.
Zone2: Storefront used to service users connecting from European sites to access apps on Zone 2 servers.
Question. What is the best way to configure the storefront server at each site? Ideally I want them to act as a failover. I also want to them to a zone so that users connections are serviced by the closest storefront server.
In the past I have used a round robin connection. but i dont think this is best for this setup, or is there some other way I can achieve this?
I think the problem is that I want to use a single unique name for the storefront connection. This works fine with a round robin setup, but i dont see how i can use this method with zones as well.
I could have both servers in zone two using round robin, this is the center of this MPLS network and the connection to zone 1 is 100MG.
Your thoughts?