I'm trying to export my VMs, as I'm migrating to a new SAN, but I'm getting error messages just trying to export my VMs.
I'm running win 2012 R2.
When trying to export from hyper-V, i Get this error: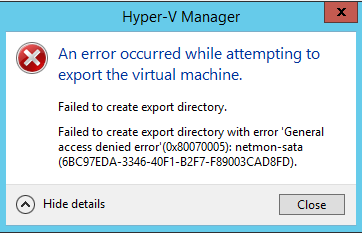 So I tried a lot of things that does not work.
I have tried giving my host servers permissions:
https://support.microsoft.com/en-us/help/2008849/error-0x80070005-when-exporting-hyper-v-vms-over-the-network
I have tried renaming the VM:
https://www.petri.com/fixing-hyper-v-export-errors
I have tried powershell to export it, still fails:
https://technet.microsoft.com/itpro/powershell/windows/hyper-v/export-vm
Here's the error message I get:

If anyone has any ideas how I can get my VMs to be exported, that would be wonderful.