Afternoon,
Lets make this a quick one, SCCM console on a new Citrix server published to a handful of people, it's not rights since they are all domain admins and/or SCCM admins
Problem signature:
  Problem Event Name:      CLR20r3
  Problem Signature 01:      LRE420M52QQYT0KWXNWESOVVMQ
F5I2RH
  Problem Signature 02:      5.0.8412.1313
  Problem Signature 03:      57e05cf7
  Problem Signature 04:      mscorlib
  Problem Signature 05:      4.0.30319.18444
  Problem Signature 06:      52717edc
  Problem Signature 07:      10ea
  Problem Signature 08:      125
  Problem Signature 09:      System.MissingMethodExcept
ion
  OS Version:      6.1.7601.2.1.0.16.7
  Locale ID:      2057
  Additional Information 1:      0a9e
  Additional Information 2:      0a9e372d3b4ad19135b953a788
82e789
  Additional Information 3:      0a9e
  Additional Information 4:      0a9e372d3b4ad19135b953a788
82e789
Read our privacy statement online:  
http://go.microsoft.com/fwlink/?linkid=104288&clcid=0x0409
If the online privacy statement is not available, please read our privacy statement offline:
  C:\Windows\system32\en-US\
erofflps.t
xt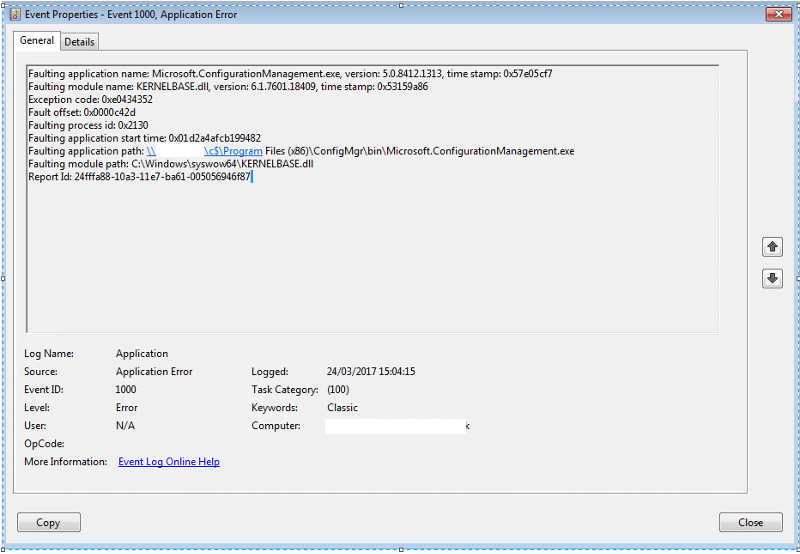 Saw this and a Shed* load of errors relating to the SCCM console
Happens when it's virtualized off onto Citrix and published via the CAG. I read it could be an issue with .NET however, I can't just start installing loads of versions of .net in a small hope of getting the right one. It works fine when you're logged onto the server however it is very laggy when you open up the actual device collection.
Cheers
Alex
* Gotta behave :-p