Hi all,
I'm fairly new to Active Directory Administration so I apologise if I'm missing something fundamental.
I have written a program in VB.Net which takes an image from an email, converts it into a Byte String, and puts it in to the sending user's ThumbnailPhoto attribute in Active Directory. I know that the program works when I run it as a console application, but does not run as a service when I specify LDAP credentials.
I have created a user in Active Directory which is how I am authenticating the DirectorySearcher and DirectoryEntry LDAP requests in my program. This user is a member of the Universal Security Group PhotoEditors.
I have successfully Delegated Access to this security group to be able to Read and Write the ThumbnailPhoto attribute within our Users Organisational Unit. This has successfully applied to our users and sub-objects within that OU. Images below.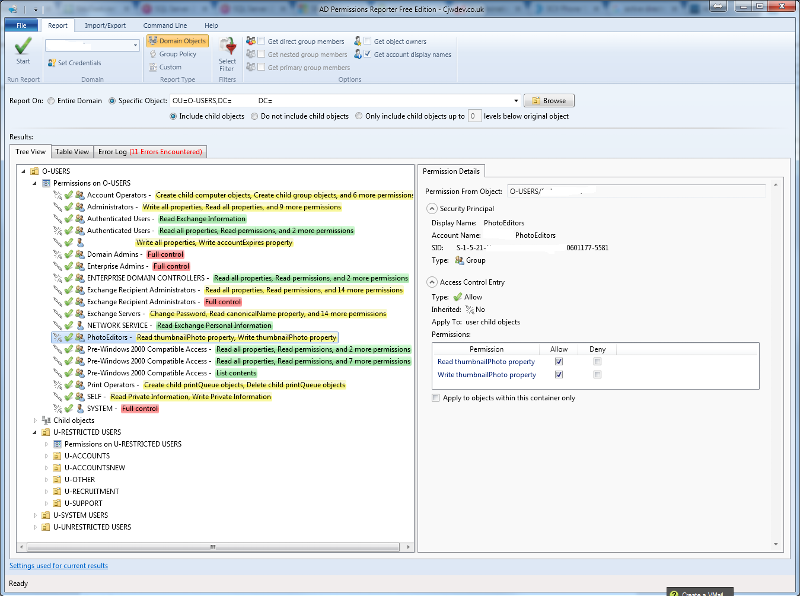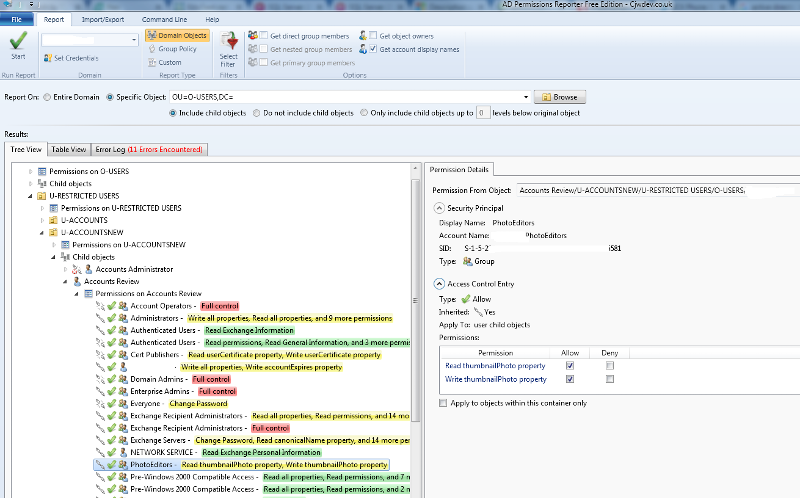 However, at some point in the past inheritance has been disabled on some of our user accounts. I manually added the group to the 10 or so users that had inheritance disabled.
About an hour later I noticed that this group no longer had Security permissions on the users that had inheritance disabled. After some research I came across AdminSDHolder which appeared to be removing the security group. I then added the security group PhotoEditors to the AdminSDHolder entry and gave it Read and Write permissions to the ThumbnailPhoto attribute. This fixed the issue and now the PhotoEditors group has the correct permissions listed in the Security tab across all users. The image below shows a user that has inheritance disabled which also has the permission applied correctly by AdminSDHolder (since I did not add this permission manually).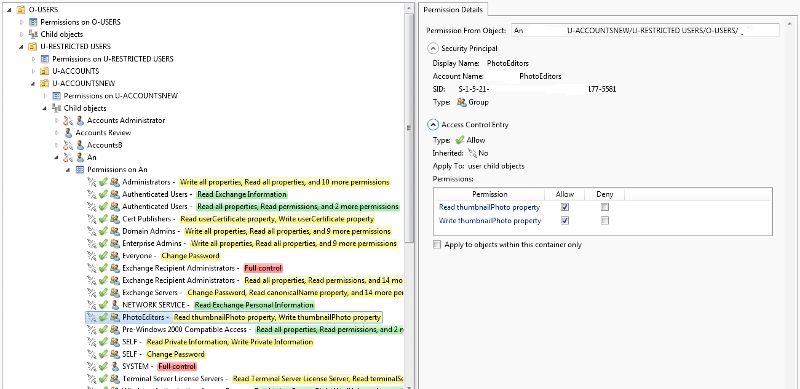 This so far is working as I understand. The problem I am now encountering is when I go to Advanced Security properties on a user that is affected by AdminSDHolder, I can see the PhotoEditors group is there and has the correct permissions, but the user who is a member of that PhotoEditors group does not have the Write ThumbnailPhoto permission. I checked this under Properties - Security - Advanced - Effective Permissions, and entered the name of the user who is in the PhotoEditors group. Screenshot below.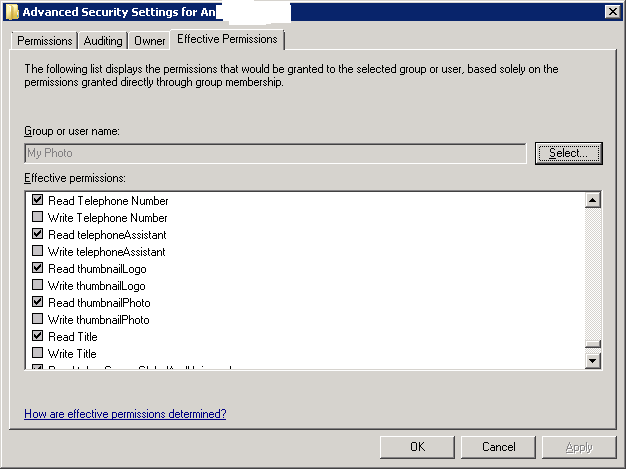 The "My Photo" user is the only member of the Security Group PhotoEditors. It is my understanding that you create a security group, assign the required permissions to that security group, then add the users to the security group that you want to have that permission. But there appears to be something overriding the permissions that the user has, even though the group it's a member of has permissions.
I would be very grateful if anyone can shed any light on this, as it's been plaguing me in one form or another for the past week.
Many thanks :)