Running Server 2016 Standard (with Essentials Role). Have shared out folders (using Wizard - nothing unusual or special) and mapped drives for users via Group Policy. All working fine.
A user told me that he can search for, and find, files on the mapped data drive (he is using Windows 10 Pro). However, he can't open a found file and he can't right-click and get a context menu. In other words - search finds what you want but you can't do anything with it!
What's weird is I can replicate on a Windows 7 PC and on the Server itself. Same behavior. Example search on *.txt: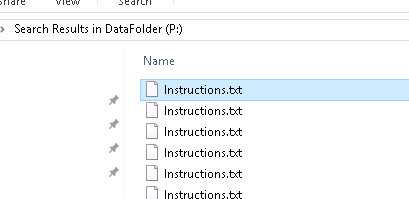 This is from the 2016 Server - I should be able to open a TXT file, but can't. Double-click does nothing. Right-click - nothing.
Can replicate the same behavior on a Win 7 Pro PC as well.
If I use a third party tool like 'Everything' from VoidTools, all works as expected.