We have a number of vmnics across our ESXi environment that run in standby mode.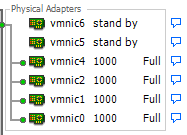 Simple question: Is better to enable all vmnics rather than to leave some in stand by?
I would think that all should be active to allow for the most amount of traffic, rather than have a vmnic just sitting there. Thoughts?