Hi, I'm trying to configure a wds server to allow PC to pxe boot. I configured wds and everything needed and this is working ... when the dhcp is on the wds server and everything is on the same subnet.
But I don't have the dhcp on the wds server, the dhcp is on a router.
I've used GNS3 to try to understand it better, here is the topologie simplified, not exactly this in my network(I mean there is more devices) :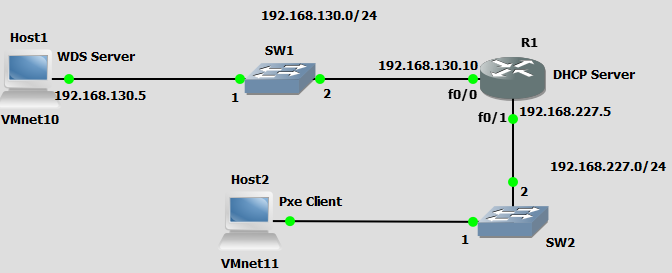 On the router I only configured a dhcp server ( in GNS3), here is the config :
ip dhcp pool test




   network 192.168.227.0 255.255.255.0




   default-router 192.168.227.5




   option 66 ascii 192.168.130.5




   option 67 ascii /boot/x64/wdsnbp



I tried to add the option 150 too "option 150 ip 192.168.130.5", but not doing anything.
On my WDS server, I unchecked the two checkbox for DHCP "Don't listen on dhcp port " and "Configure the dhcp option to indicate that this server is also a Pxe server" and the server is answering to everybody(known and unknown client). I tried too to just check the second box "this server is also a pxe server".
On wireshark between the router and the Pxe client here is what I have :

Without options 66 and 67 the router answer with his DHCP Offer but the Pxe Client don't accept it so he resend a Discover, and with those options the DHCP works fine. But then my problem is after when TFTP comes, the Pxe client send his tftp packets to the router and not my wds server, so obviously the router say "port unreachable" because is not a TFTP server.
I discovered too that the Router in the DHCP Offer don't send the option 66 :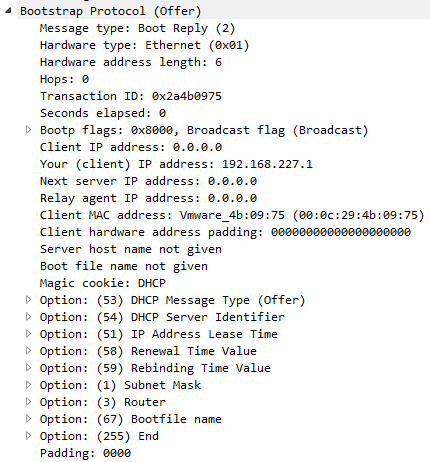 My WDS Server don't receive any traffic, from the DHCP Discover to the TFTP.
And on my Pxe client :

Should I just add a port-forwarding line in my router to say that traffic to port 69 should be forwarded to the wds server ?
Why my router is not forwarding anything from the pxe client to my wds server ?
So as I said the settings of my wds server are fine because it worked if the DHCP is on the wds server.
Thanks