Hi,
After a recent update to Office 2016 ( via Office 365 Subscription ), all of the standard Emoji Auto Correct Options that worked perfectly before the update have been screwed up and just turn into a square when used now. Ie: :) :( etc. See example below..
:-) turns into a square instead of a smiley face, as does :-( or :-D or :-o etc..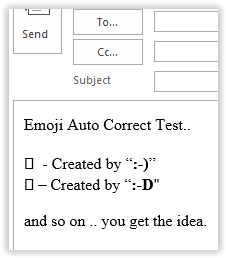 A Repair of Office 365 (both offline and online) didn't help, nor did uninstalling and then downloading and reinstalling from scratch.
Anyone know of an easy way of fixing this problem?
Thanks..