I had a similar problem with Office 365's Word 2016 that was solved in
this thread here
but the solution didn't work in my Outlook 2016.
I've now managed to get the standard Wingdings font Emoji's working in Outlook AutoCorrect as per the sample pic below;

but when I try to get (or add) other Emoji symbols
like the ones in the picture below
into AutoCorrect, I still have the frustrating problem of getting a
square
instead of the Symbol I've selected when I try to insert the Emoji into an email message body.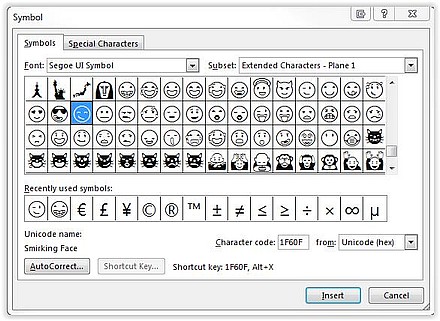 It all appears to be correct in the
AutoCorrect
box as shown below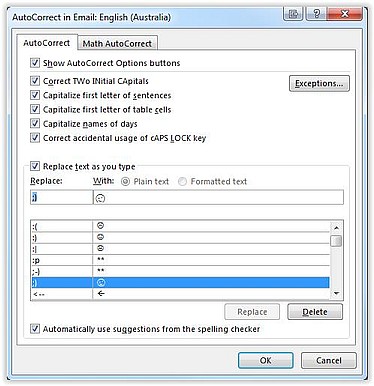 but what I actually get when I type
;)
in the email body is this:

The exact same thing happens even if I try to Insert the Symbol into the email body from the Symbol box above.
Now, adding to the mystery is that
ALL
of those Symbols work perfectly well in Microsoft Word 2016 (
downloaded and installed from my Microsoft Office 365 Subscription
) as has been proven by the Solved question I posted in the
URL LINK
that I also pointed to at the start of this question.
The only Symbols my Outlook seems to want to accept are from the
Wingdings
Font collection. Given that Outlook uses word for writing its emails anyway, that makes no sense to me whatsoever ?!
Things that have been tried to fix this problem include the following:
1. Doing a Quick Repair of Office 365.
2. Doing an Online Repair of Office 365
3. Uninstalling Office 365 completely and then Reinstalling it
4. Contacting Microsoft Support who progressively Elevated the issue from Level 1 support, to Level 2 support, and now to Level 3 support after not being able to resolve the issue and who (Level 3 Tech's) are still trying to figure out how to fix this themselves
5. Changing the default language from English (Australia) to English (United States) - this was done by Microsoft themselves and made no difference
I contacted Microsoft for support about the problem existing in both Outlook and Word, and they have spent in excess of
9 hours
on the problem now, much of it
connected remotely to my computer
trouble shooting the problem themselves, yet it wasn't Microsoft that solved the Word 2016 problem for me, it was actually solved with the excellent help and suggestions of an
Experts Exchange Lvl 44 Expert
(
jackieman
)
Heh.. one would like to believe that the Level 3 Microsoft Support Technicians that my support request has been elevated to would have a better knowledge of their own product no? :-) Anyway..
Though I've installed a temporary workaround in the way of an Outlook Add-In called
Kutools
that provides a 60 day fully functional free trial,
Kutools Outlook Add-In
is not a solution, just a temporary workaround until I can get this fixed.
I am determined to get to the bottom of this problem with Outlook not being able to do what it should!!
I've invested
far too much time in this problem
to give up now so if anyone has any suggestions or ideas, I would greatly appreciate your help.
Many thanks..
Andrew
(EE Member: KZX10)