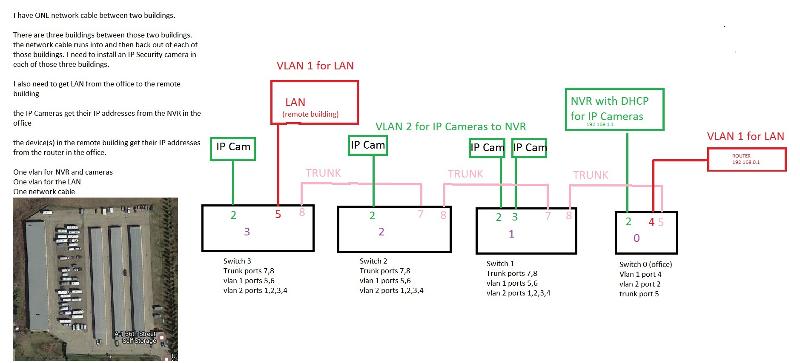 One network cable, four switches, two vlans.
I am using TP-Link managed switches. The VLAN configuration options include Port-based vlan and 802.1Q vlan plus PVID.
Switch0 (5 port) will be connected to two separate LANs and "uplink" to switch 1. connections: LAN1, LAN2, Uplink to next switch. I don't care which ports are used for what.
Switches 1, 2, and 3 need LAN2 access on ports 1-4 (no variance possible here) and LAN1 on 5 and 6. 8 is the uplink from the previous switch and 7 is the uplink to the next switch
vlan1 is the office LAN which should be accessible on at least one port on switch 0 and ports 5 and 6 of switches 1, 2, and 3
vlan2 is the security LAN which should be accessible on ports 1-4 of switches 1, 2, and 3