Hello:
At the end of this posting is T-SQL code that I modified by using a PARTITION clause, and the first screenshot shows the results of running this code.
The third record shown in that screenshot is the record that I do not want.
If you review the second screenshot, you'll see that this record appears in row 3 of the "bottom" RM20201 table. Its corresponding record in the RM20101 table is row 26 of RM20101.
Pertaining to these two screenshots, there are three records in RM20101 and four records in RM20201.
Rows 1 and 2 of RM20201 correspond to rows 27 and 28 of RM20101, respectively. This is seen in RM20101's ORTRXAMT field.
Rows 3 and 4 of RM20201, however, correspond to only one record in RM20101--row 26.
I don't want data derived from my code that represents two records in RM20201 and only one corresponding record in RM20101. So, I want the third record derived from my code and shown in the first screenshot "removed".
How do I modify my syntax, to accommodate this?
Thank you!
John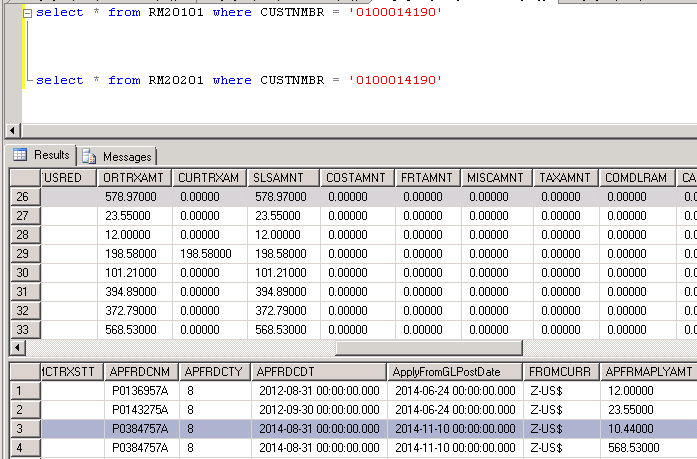 DECLARE @AGE DATE




DECLARE @BEGINDATE DATE




DECLARE @ENDDATE DATE





SET @AGE = '09/30/2015'




SET @BEGINDATE = '10/01/2015' 




SET @ENDDATE = '09/30/2016'





--the following clause contains returns that are partially applied:




--UNION




select 




RM20101.CUSTNMBR as [CustomerID], RM00101.CUSTNAME as [CustomerName], CN00500.USERDEF2 as [GroupBillingName], RM20101.DOCNUMBR,




SUM(RM20201.APFRMAPLYAMT * -1) 




as [OPEN A/R], 0 as [Payments],




0 as [Credits], 0 as [Returns], 0 as [Writeoffs]




from RM20101 




INNER JOIN (SELECT *, 




                          ROW_NUMBER() 




                            OVER ( 




                              PARTITION BY RM20201.ApplyFromGLPostDate, RM20201.APFRMAPLYAMT




                              ORDER BY DATE1) rn 




            FROM RM20201 




     where RM20201.DATE1 >= @AGE and RM20201.APFRDCDT <= @AGE and RM20201.APTODCDT <= @AGE) RM20201 




ON RM20101.CUSTNMBR = RM20201.CUSTNMBR AND RM20101.DOCNUMBR = RM20201.APFRDCNM AND RM20201.rn = 1




--INNER JOIN RM20201 ON RM20101.CUSTNMBR = RM20201.CUSTNMBR AND RM20101.DOCNUMBR = RM20201.APFRDCNM




INNER JOIN RM00101 ON RM20101.CUSTNMBR = RM00101.CUSTNMBR




LEFT OUTER JOIN CN00500 ON RM00101.CUSTNMBR = CN00500.CUSTNMBR




where RM20201.DATE1 >= @AGE and RM20101.DOCDATE <= @AGE




and RM20101.DINVPDOF >= @AGE and RM20201.APFRDCDT <= @AGE and RM20101.POSTDATE <= @AGE and RM20201.APTODCDT <= @AGE




and RM20101.DUEDATE <> '' and RM20101.DUEDATE <> @AGE 




and RM20101.RMDTYPAL IN (8) 




and RM20101.VOIDSTTS = 0 and RM20101.CUSTNMBR IN ('0100014190')




GROUP BY RM20101.CUSTNMBR, RM00101.CUSTNAME, CN00500.USERDEF2, RM20101.DOCNUMBR