Hi,
Word 2016/Win10:
I sometimes need to search a Word doc for instances of hyperlink text. I do so as follows in the FIND AND REPLACE Dialog:
1. Click
Format
.
2. Select
Style
from the drop-down menu.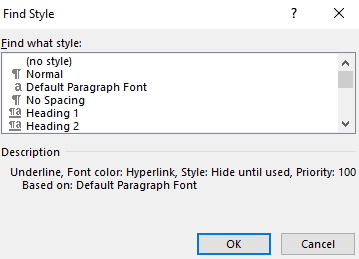 In order to locate "Hyperlink", I need to press 'H' over 20 times. Is there a quicker way? Ideally, it would not be a macro since the docs in question are not macro-enabled.
Thanks,
Steve