I'm developing in VB.NET 2017 .NET 4.5.2
I just need the  combbox selection to sort to the idenical treeview Node? In my Combo box contains all the workstations in AD OU the Treeview has identical names as nodes I want when I combo box is selected the Computername becomes Highlighted in the Treeview Node. I can do it as combo box to sort to a listview however the Treeview is not a control that I can use it to it's Fullest.
Here is a Visual I got Tree to combo box but not combo box to Tree view.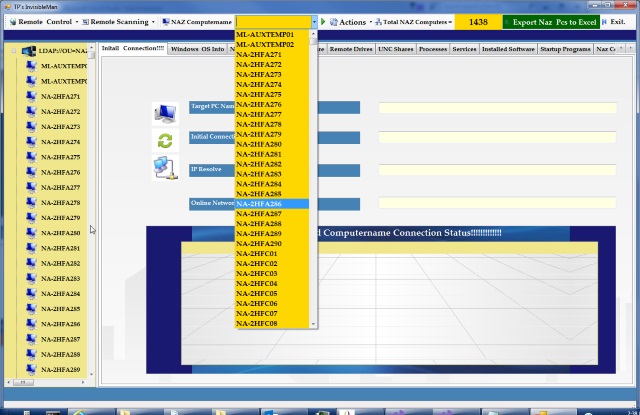 hERE IS CODE THAT ALLOWED ME TO SORT FROM COMBO BOX TO lISTVIEW CONTROL. vb.net pLEASE
 Public Function FindItem(ByVal LV As ListView, ByVal TextToFind As String) As Integer







        ' Loop through LV's ListViewItems.





        For i As Integer = 0 To LV.Items.Count - 1





            If Trim(LV.Items(i).Text) = Trim(TextToFind) Then





                ' If found, return the row number





                Return (i)





            End If





            For subitem As Integer = 0 To LV.Items(i).SubItems.Count - 1





                If Trim(LV.Items(i).SubItems(subitem).Text) = Trim(TextToFind) Then





                    ' If found, return the row number





                    Return (i)





                End If





            Next





        Next





        ' If not found, then return -1.     Return -1





    End Function




    Public Sub FindPrinter()




        LSPrinters.MultiSelect = False





        LSPrinters.FullRowSelect = True









        Dim checkInt As Integer = FindItem(LSPrinters, cmbPrint.Text)





        If checkInt <> -1 Then





            LSPrinters.Items(checkInt).Selected = True





            LSPrinters.Focus()




            LSPrinters.SelectedItems(0).EnsureVisible()






        Else




            ToolStripLabel1.Text = "Search string not found"





        End If






    End Sub



WinApp.png