Hello,
Can someone provide some insight and example(s) for using the Array form of the INDEX() function in Excel?
The following screenshot is from an Excel file (attached) which I've been using to play around with different forms of the INDEX() function. I think I deciphered the Reference form of the function (in a different sheet tab in the attachment) but the Array form is still murky.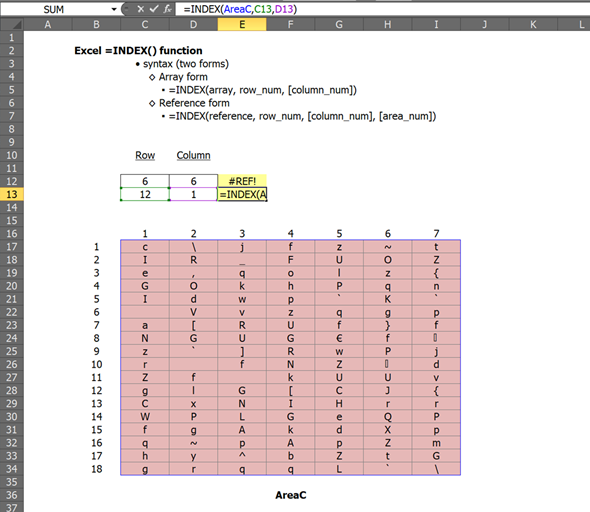 In the above screenshot, the range shaded pink (C17:I34) is named AreaC and I've been testing formulas in the two cells shaded yellow. I do understand that Array formulas must be entered using CTRL+SHIFT+ENTER but I discovered that you cannot show the curly brackets AND the nice colors in the Formula Bar simultaneously so the former are shown in a second screenshot below.
I'd appreciate it if someone could use the range in the attached file to provide an example or two of
how to correctly set up an Array form of INDEX() and briefly explain when/why you would use it.
Thanks
File attached below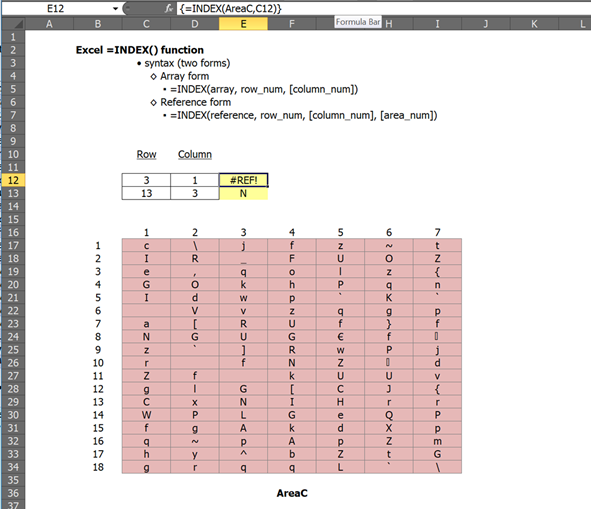 INDEX---function-in-Excel-2017-10-2.xlsm