With Microsoft killing millions of webcams last year after their anniversary update debacle there still remains a small problem using Microsoft LifeCams (in our instance LifeCam Cinemas).  We haven't been able to turn autofocus OFF.
Microsoft's latest/last version of LifeCam software (version 3.6) isn't compatible with the current version of Windows 10.  Even if you try to install in in Compatibility Mode (for Win 7 or 8) you get the following error message: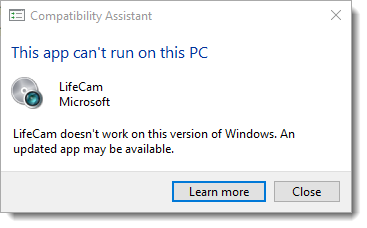 We've tried looking in the registry for clues and even looked at Windows 10 CAMERA application to see if, maybe, there were camera settings there we could use....there aren't.
Now I'm reaching out to see if anybody has found a way to turn Autofocus OFF on a LifeCam Cinema in Windows 10.
Is there a reg hack?  A 3rd party tool?   A secret handshake I have to do?