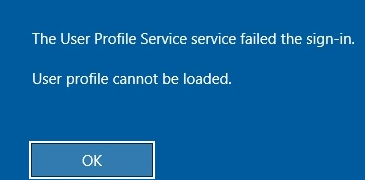 Hi,
 I successfully upgraded Windows 7 Pro computer to Windows 10 Pro recently. I jointed this computer to domain and added a domain user account. When I tried to log in as domain user, I got this error.
 So I thought it was domain related. but it was not the case.
 I dis-joined the computer from the domain, opened Computer Management and added a local account with administrator. When I tried to log in as a new local user, I got the same error message.
 In Services.msc, I see "User Profile Service" running and set to start "Automatically".
 I can login to this computer using local administrator without a problem.
 When I checked c:\users folder, I do not see any new user profile folder that I added, but failed to login.
 Fyi, since this computer is in the remote site at this point, I can't start in safe mode.
Can you help?