This is the wierdest thing I ever saw...... I decided to post in here out of desperation. I'm developing in Access 2010. My program file is called Alchemy.accdb. I develop on my workstation in a folder called C:\Alchemy. When I want to publish an update, I copy Alchemy.accdb across to the server J:\ drive where my users can get a copy from. I've been doing it this way for many years. It has always worked well up until now.
Last week I started finding that when I try and copy my program .accdb across to the server, the copy process hangs part way through. At that point I cannot kill the process, nor will my pc reboot. I have to hold the power button until it goes off.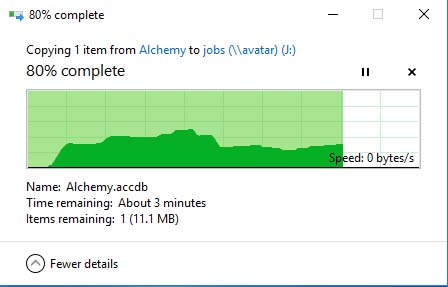 So for the past week i've been doing things like updating drivers, disabling windows defender etc. All to no avail. I've had a question in here on the Windows 10 section, and for a while I thought I had a work around, but it turned out not to be the case. This morning I discovered some strange things....
1. Other file types will copy across to the server just fine. As far as I can see, it's just Access database files that won't copy.
2. if I rename some random large file as Alchemy.accdb it copies across just fine.
3. If I rename my program file to masquerade as a different file type, the copy process stalls.
So it seems that it is the actual file content rather than the name or file type which is causing the problem. I went into Windows Defender and added exclusion for both the source and destination folders. I also added an exclusion for Alchemy.accdb I've tried to copy various other .accdb files. They copy across just fine if they are less than 30M in size. Nothing larger will copy across.