I have a location that still runs on SBS 2008.
I have added new server "DC2016" with Server 2016 and made it DC - transferred all needed data, replicated AD, and turned off the "old" SBS2008.
As soon as I turn off the old SBS2008 I am unable to open Active Directory Users and Computers.
I get following error: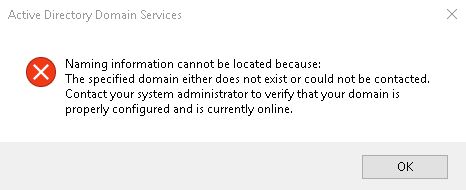 I think that I had done exactly the same before, and did not have that issue.
I changed the the NIC on the DC23016 to point to itself, seized the FSMO roles, performed "metadata cleanup" to remove old SBS2008, removed any references in the DNS to SBS2008
I've done this "million" times before and this time it gives me hard time - do I have a brain fart?