I'm using VB.Net to run a program that connects to a SQL Server Express database.
My connection string is this:
Public Const LocalDB As String = "User ID=sa;Password=*******;Initial Catalog=tempOrders;Data Source=v7p\SQLEXPRESS"



Here is the error message I'm getting.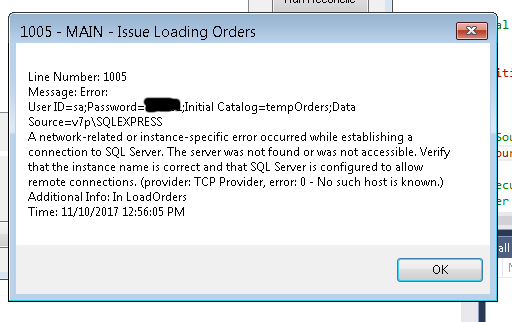 This program has been running all day and only stopped about an hour ago.  
Nothing was changed on our system as far as we can tell - and no code was changed in the VB.Net program.
Any suggestions on things we can try?  This problem happend a couple of days ago - and after a few hours it started working.  Very odd.
I can access the database using the credentials I have using Management Studio.
Any help or suggestions you have will be appreciated!
Thank you!
Steve