Hello,
In Excel, is there a way to auto-fill a cell color based on RGB values entered in other cells — and vice versa?
For example, the following screenshot (taken from the attached file) shows a handy color conversion chart in which values entered manually into the yellow-shaded cells in a given row are automatically converted to equivalent values in the other cells in the same row.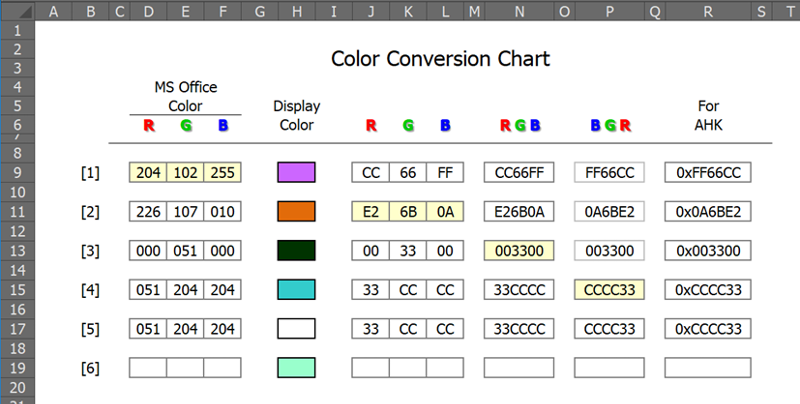 In row [1] for example, entering decimal values for R, G & B in the first three cells (columns D, E & F) causes the remaining fields in that row to auto-populate. In the same way, entering hex R, G & B values in columns J, K & L of  row [2] results in the auto-population of the first three fields of that row (columns D, E & F) as well as the remaining fields located between columns N thru R. Rows [3] & [4] produce similar results for manual entries in columns N and P respectively.
The Display Color cells (column H) were of course filled manually for this screenshot but I'm wondering if there's a way to auto-fill a Display Color based on a decimal or hex value entry in the same row (eg row [5]). Conversely, is it possible to have all of the
numeric
values in a row populate simply by filling the Display Color cell in that row?
I know that with Conditional Formatting (CF), a cell can be filled with a single specific color based on the value in the same or a different cell. However, I don't know of CF being able to apply multiple colors in the same way. But is it doable with VBA?
Thanks
Edit: I forgot to mention the final column, namely, converting colors between Excel and AutoHotkey (AHK) which was my purpose for creating the chart in the first place.
2017-11-13_EE_ColorChart.xlsm