I recently imported a ton of photos to my Photos app in the Mac. There were about 12,000 photos. But when importing them, I've ended up with 36,000. ack! So I realized that this is what happened:
I used to have a Windows Vista computer. That's where these old pictures used to be stored. Now they're on a portable hard drive, but I wanted to add then to my Photos App so they will back up in the cloud.
Anyway,...
Here is what is see. If I have a picture name IM004244.JGP.  Then there is a folder named IM004244.JPG.files in this folder there are two pictures as "vcm_s_kf_m160_160x120.jpg
"  and "vcm_s_kf_repr_640x480.jpg
" these are identical pictures as IM004244 original (except different sizes).
I want to get rid of all that crap. Good grief, Vista sure knew how to mess things up.
This is what I'm seeing (see screenshot)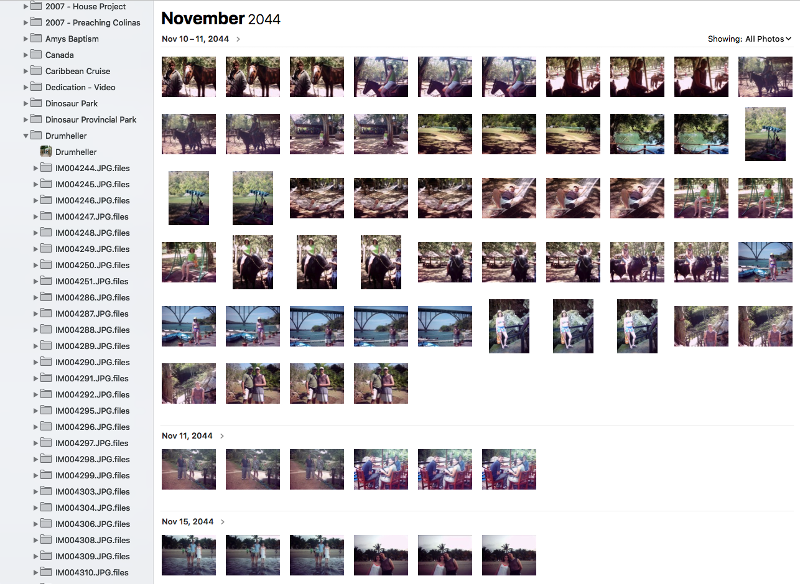 Messed up, isn't it?
This is what I've tried so far. I bought Gemini 2 to remove duplicates. The software just crashes after working a couple hours.
Also, I did a search on the SSD for all files called vcm_s_kf_m160_160x120.jpg  and vcm_s_kf_repr_640x480.jpg and deleted them. (Note: I did this directly on the SSD and not via the Photo app). I don't think that has helped. My Photos app is very unstable now. It's probably trying to retrieve the lost files from iCloud.
What should I do next?
I'm thinking the best would be to restore the Photos app from the Time Capsule and start. If that's what you recommend how do I actually go about that? Or maybe there is some software that can help me here.
Can't think of anymore details at this point. Shoot me questions if you need clarification.
Thanks.