I'm running a Crystal Report to the screen. On the viewer is a Print icon.

But when I click it all I see is the Microsoft XPS Document Writer, it doesn't give me access to any of the other printers available.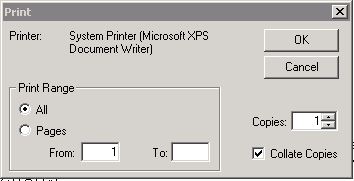 I'm running Windows Server 2008 R2, but is an issue reported by a customer, I just happen to be able to replicate it on a VM I have built.
I can see that it is defaulting to the system printer:

so if I change the System Printer to "One Note" for example:

Then it prompts with that, but ideally I would like it to just allow them to select any printer.